Winters can undoubtedly be hard on a roof and this is especially true for asphalt shingle roofs. The added weight of the buildup of snow and ice, the freeze/thaw cycle, and ice dams could all potentially damage your roof and gutters.
Harsh Effects of Snow and Ice
Ice buildup is one of the ways in which winter weather can cause gutter damage. Ice buildup stops melted snow from flowing to your downspouts for correct drainage.  The built-up snow and ice also create long icicles via the runoff that flows over the lip of the gutters. This puts a strain on the gutters and poses a hazard for anyone walking underneath them.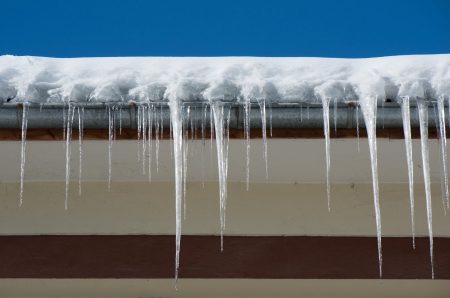 Ice dams form when snow and ice build up on the roof and they are equally problematic. The snow will eventually start to melt, even if temperatures stay below freezing. Heat from inside your home and from sunlight will warm the roof and the snow and ice will begin to melt. This causes the runoff to enter your gutters, which is colder than your roof and re-freezing results. This creates an ice dam that stops the correct drainage of the melted snow.
Ice dams prolong the overexposure to moisture. As the ice melts slowly, water seeps underneath shingles, beneath the tar paper and ultimately into the plywood. This causes damage to your roof, soffit, and fascia.
Bearing the added weight of a huge snowfall is another way in which gutters are damaged. Even adequately-installed gutters can succumb to the heaviness of snow and ice, separate from their hangers and plummet to the ground.
Thankfully, there are preventative steps that can be taken to assist your roof in performing at peak efficiency.  These include:
Cleaning Gutters Before Winter
One method of preventing ice dams and buildup involves cleaning out your gutters before the winter, following all the leaves falling from the surrounding trees. When gutters are clogged, this will accelerate the ice damming process and cause an overflow when the gutters become filled with snow and ice. To prevent the melting of the snow on your roof, ensure it is well insulated and no warm air is escaping.  
Keeping Gutters Clear Throughout Winter
Be sure to clear gutter throughout the wintertime as well. Make sure there are no clogs that may cause precipitation to overflow or buildup within the gutter. It's important, however, to put safety first when it comes to this winter gutter task. Because the use of a ladder is necessary to reach your home's gutters, exercise caution when setting the ladder up. Check for ice patches underfoot that may cause the ladder to slip when you are climbing it.
Considering a K-Guard Leaf Free Gutter System
Consider using a K-Guard Leaf Free Gutter System to prevent gutter damage. These systems are fully integrated, completely engineered and leaf free.  The capacity, durability, strength and visual appeal of gutter guards are second to none.   
Gutter guards are basically designed to fit over the gutters of most gutter systems. The K-Guard system completely replaces the gutters with 5-inch gutters and a customized helmet-type cover is secured to the top.  These gutter guards are incredibly useful and cost-effective. They remove the need for what could be an unsafe chore while boosting the value of your property.
Essentially, to protect your gutters from snow and ice, you should use our services to trim branches. It is also important to call in our experts to inspect them and make sure there are no clogs in the gutters.  Making the decision to install our system would be a wise choice in safeguarding your gutters against snow and ice.
SaveSave