K-Guard® History
Born from the inventive mind of Gary Knudson of Knudson Manufacturing in Broomfield, Colorado, the K-Guard® concept was established in 1996 and first manufactured in 1997. Knudson's experience with designing gutter machines began when his career did—working for his father out of their garage in May of 1965. In 1970, Gary took the helm at Knudson Manufacturing and has processed and received over 100 patents since. One of the most innovative of those designs is the fully engineered two-piece leaf free K-Guard® system, featuring a fully supported gutter and hood, a hidden patented hanger system, with improved aesthetics and additional strength as compared to similar systems on the market. K-Guard® received patent and signed its first licensee in 1998 and has been providing unprecedented home drainage systems ever since.
The K-Guard® dealer network is expansive, carried by 42 companies and comprising 75 offices across 37 states, making the system accessible to homes across the country. Since its introduction, over 35 million feet of K-Guard® has been installed, providing leaf free gutter guard solutions and 100% lifetime clog-free warranties for homes across the United States.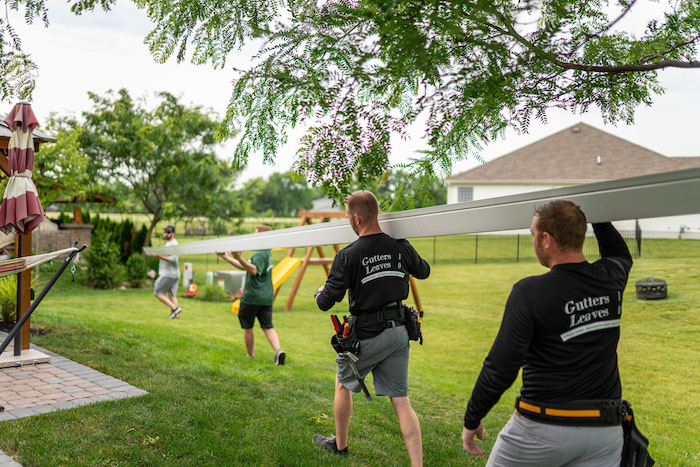 Despite the large quantity of K-Guard® that's been installed, there have been zero reports of hood loss or removal due to wind, which is not an uncommon challenge for a gutter to face. The strength of the FEA-verified K-Guard® system can be attributed to many of its high quality features, including a full-sized six-inches rain gutter that can hold .70 gallons per foot. Its robust, high-strength, all-weather design is kept secure with by 0.027 to 0.032-inches thick coated aluminum (3105-H16 to H-24) or 16 and 20-ounce copper that's formed on site. The design (US Patent 5,845,435) is sharp and seamless, with front and rear drainage passages for improved water collecting and flushing action that has been proven and field tested. The textured hood is removable and offers an extra line of protection against markings from hail.
Request Your Free Estimate Today