K-Guard Professional Gutter Installers In Action
K-Guard Iowa by MAFCO
Des Moines, Iowa
It all began with a supportive family, a strong work ethic, and a belief in a product. K-Guard Dealer Owner Jack, his father, and brother Charlie have built a thriving business, MAFCO in Des Moines, Iowa based on a strong family foundation and a product they truly believe in. Together, Jack, his brother, and Dad have built a successful company devoted to key principles of customer service, "build the team," and remain flexible.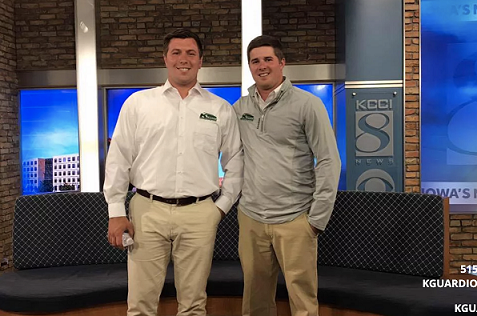 Jack grew up in Des Moines, IA admiring his father, who is a construction business owner. He always knew he wanted to own his own business, just like his Dad. When Jack's brother, Charlie, joined their father as a business partner, Jack now had two men he looked up to for their passion, work ethic, and entrepreneurship.
The construction company wasn't large enough to warrant three owners, but Jack wanted to do something similar and be able to work with his mentors. That is when Jack pursued K-Guard and learned about ownership.
As the father and sons worked diligently on their businesses, they realized there was a great potential to collaborate and overlap services for their customers. Right before their eyes was a tremendous win-win opportunity to provide their customers with tandem services—contract work and gutters—and sales fed off of each other. They seized this opportunity and realized growth for both businesses by joining together as co-owners.
Jack graduated from AIB College of Business. He was 23 years old when he began his K-Guard dealership, which eventually grew to include not only his Dad and brother but his close friend, Trevor, also. Trevor left a job to work with Jack and is now in the key role as General Manager.
Jack's first sale was in March of 2016. He knew how important marketing this amazing product was, but he didn't know exactly how it would be done. Initially, he started with direct mail campaigns like ValPak and going door-to-door to speak directly to potential customers. These efforts provided about 3-4 installations per week.
Remaining flexible, Jack believed it was time to try digital marketing with Google Adwords, social media posts, and email blasts. He also made a solid investment in television commercials. These marketing and advertising efforts have been successful and provided an increase in installations. Additionally, Jack realized how effective it is to follow-up with the neighbors of a recent installation. Now, when the team completes a job, Jack sends 50 postcards to the surrounding homes to share why K-Guard was in their neighborhood, what K-Guard Gutters can offer, and that a K-Guard lifetime guarantee is included on the product. Jack's willingness to try different methods to reach customers paid off with an increase in sales for his company.
The gutter protection team that Jack built…
Jack is quick to give credit to his General Manager, Trevor and devoted team of six full-time installers for their quality work and enthusiasm for making customers happy. As a business owner Jack believes in paying his employees well, giving them reasons to stay with the company, and investing in their development.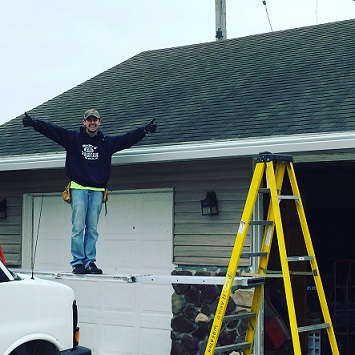 His team realizes if they give 100%, then they will be rewarded for their efforts. This creates a positive environment for the team and they work together to maintain its success.
Jack is focused on sales while Trevor manages the post-sale process. Jack is extremely grateful to his three, highly-skilled employees who train new employees. A new employee is typically trained within 2 to 3 weeks.
Dedication to the customer is the driving force for all business efforts. To this end, Jack's timeline from the initial customer contact to the final installation is about 4 weeks, typically. Jack's goal is to make the official sale within 3 to 4 days of contact with the customer. They are consistently busy for the majority of 10 months out of the year.
Jack enjoys working with K-Guard, LLC General Manager, Rich and National Sales Manager, Justin. He appreciates their communication and approachability. As leaders, Jack believes they have a healthy blend of being available for help and giving Dealers autonomy to run their businesses.
When asked, "If you were to speak with someone thinking about becoming a K-Guard Dealer, what are two things you would tell them?" Jack's answer is clear: selling the best product available makes the challenges of doing so much less difficult and what you put into your K-Guard Dealership you will reap in return. Jack appreciates the product and the sales that result. He has been able to take the gains and reinvest in his team to create a fantastic crew that he hopes will stay with him for the long haul. Jack's success as a K-Guard Dealer has enabled him to give back to his team and create a winning company.
Request Your Free Estimate Today