Over 38 million feet of K-Guard leaf-free gutter guards have been installed since 1998.
Our system will broaden your product line and deepen your bottom line..
Now accepting exclusive dealer applications
Multiple markets available!
Could you qualify to be a K-Guard® dealer? We have a highly-regarded reputation in the home contractor industry. We are confident that existing, well-capitalized construction organizations, and home improvement contractors would benefit from offering this unique, high quality, high margin, leaf free gutter protection system.
Here are a few qualifications that K-Guard® is looking for:
Existing sales and marketing infrastructure
Minimum of 2 sales people (demographics will be taken into account)
Advertising experience (local radio, television, and other media)
Customer service-oriented company with regards to service and high quality
Reputable company history
To find out more about becoming a KGuard dealer, provide your information below. All information will be kept confidential.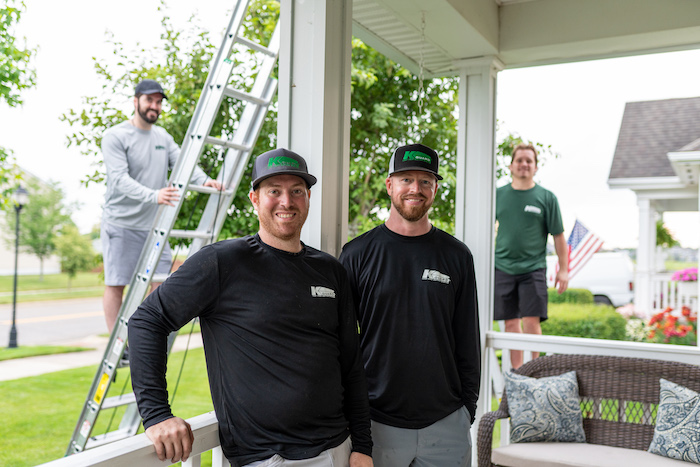 Can other K-Guard dealers install K-Guard in my Territory?
That depends on terms of license agreement. Due to geographic proximity to other territories, older license agreements allowed dealers to install gutters outside their area- most did not because of added cost to go into other areas outside their territory. New license agreements, have been changed to make the territories exclusive so once the territory is agreed on no other dealer may perform installs of K-Guard without the Licensee's consent.
What must a dealer purchase from K-Guard per the license agreement?
Dealers must purchase the K-Guard Hood and Trough machines that are roll-form the Hood and Trough, the gutter components, which include the patented hangers, endcaps (left and right), inside and outside miters, inside miter hood frame and hood screen. K-Guard does offer valley flow reducers which are an optional purchase.
Does K-Guard sell coil stock for their gutter machines?
K-Guard, unlike many competitors, allows the licensee to source coil from local providers.  Dealers may choose their supplier, making them free to negotiate the best deal for supplies. K-Guard does not require any coil purchases or royalties.
What does K-Guard offer as far as marketing and leads?
K-Guard will feature each licensed dealer on the K-Guard website thus providing accessibility to the leads-generation system, along with links to each dealer's website. Any and all leads will be sent to licensees as they are received. K-Guard also sells, at cost, a trifold brochure and door hangers for home shows and local advertisement. As a licensed dealer you will have the right to use the K-Guard trademark and all artwork available.
What is required of the K-Guard dealer pertaining to upholding the K-Guard lifetime warranty?
As a K-Guard dealer you will be required to service K-Guard in your territory. This includes all clogs if the clog resides within the gutter and not the downspout, as well as gutter separation from the fascia and sagging. Because K-Guard requires hangers be placed at least every two feet, screwed into fascia board, the hangers should anchor into rafter tails every six feet. K-Guard does require that the coil licensee's purchase be a twenty year no corrosion warrantied coil.
What type of coil can the K-Guard gutter machines accept?
K-Guard gutter machines are engineered to produce quality product with .027 coil or .032 coil. Outside of this gauge, material will damage machines and result in unsellable gutter. As the .032 coil is a thicker gauge and more durable, K-Guard recommends using .032 coil stock. K-Guard machines can also run 16 oz. and 20 oz. copper.
Will K-Guard gutters void or interfere with any roof warranties?
No. K-Guard gutters are installed directly in to the fascia board. There is no contact with the roof line or shingle. Many competing systems will attach to the home and roof in multiple anchor positions, often times under the first row of shingles. If the site has gutter in contact with shingles this can void many roofer warranties. K-Guard is a worry- free alternative to this problem.
If the gutter system ever needs to be serviced is this easily achieved?
Yes. K-Guard is a seamless two-piece system consisting of the hood and trough. Many competitors are either made as a one-piece system or the topper portion is attached in multiple areas. K-Guard was engineered so that servicing the gutter is simple and timely. One end cap can be removed and then the hood is free to be slid out the open end or lifted off the patented hanger. It is as easy as that.
Request Your Free Estimate Today