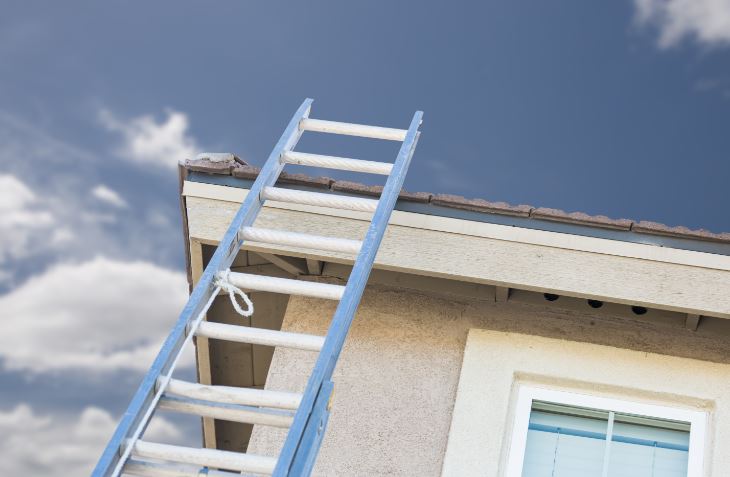 Alarming statistics from the American Academy of Orthopedic Surgeons tell us 500,000 people in the U.S. are treated for injuries stemming from ladder accidents each year. About 300 of those accidents prove to be fatal.
Older people are especially vulnerable to ladder accidents, and their injuries are often more severe.
It doesn't have to be that way, though.
With K-Guard Leaf Free Gutter Guards, you'll never again have to risk your life by climbing a ladder to clean your gutters.
Is using a ladder really that dangerous?
It sure is. In fact, because climbing a ladder may not seem like such a big deal, we are often lulled into a (very) false sense of security. The truth, though, is that a fall can happen in a flash.
Whether it's using the wrong ladder for the job, incorrect placement of the ladder or using a ladder with worn or damaged parts, you're literally putting your life at risk each and every time you step on that first rung.
Commonly reported injuries from ladder falls include:
Damages to the spine

Head trauma (concussions and other traumatic brain injuries)

Broken bones

Deep bruising
Since our bones become more fragile as we age, injuries sustained by older persons in ladder accidents are often far more severe than with other populations. Even a fall from a shortened height can lead to traumatic consequences in the blink of an eye. 
How does K-Guard prevent ladder falls?
That's easy: we virtually eliminate your need for a ladder to clean your gutters. It's as simple as that.
Here's how it works.
The K-Guard system (the hood and the gutter) is attached to the existing fascia board just below your roof. (If there is no fascia board material at your home, we can add it.)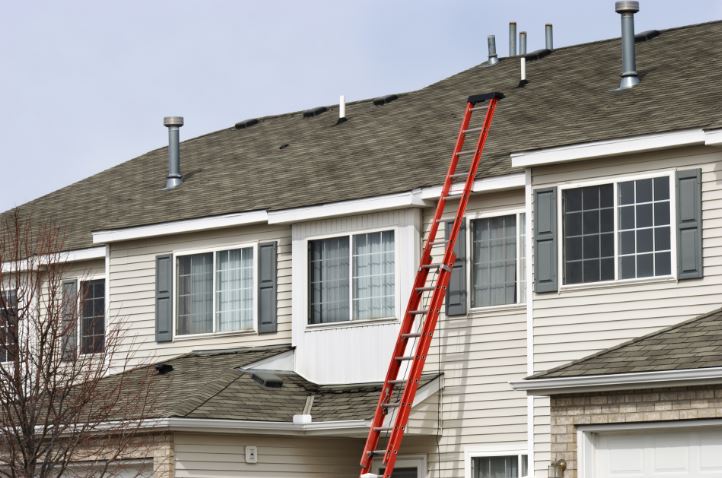 This does not negatively affect your roof at all. Rather, your roof is actually strengthened to withstand ice damming and blowback.
There's a narrow opening between the hood and the gutter that allows rainwater – and rainwater only – to pass through onto the gutter before being guided to the downspouts.
Leaves, pine needles and other debris are prevented from finding their way into the gutter. 
With the K-Guard Leaf Free Gutter System, there's literally no more worries about clogged gutters or concerns about damage to your home's roof, foundation and siding.
Better still, there's no need to use that ladder!
Why should I select K-Guard over other leafless systems?
There are many tangible differences between the K-Guard System and the "other guys."
Increased ability to divert more rainwater.

Most of the other leafless gutter systems are made for or use gutters barely wider than 3-4 inches. K-Guard gutters, though, provide you with a 5-inch-wide leaf-free gutter; there's no water buildup.

No damage to your roof and home.

The other systems typically attach just under your roof shingles, putting your roof at risk and possibly voiding any warranties you have. By attaching to the fascia board, the K-Guard System protects your roof and the structure of your home.

Better fit to the structure of your home.

Because K-Guard doesn't even touch your roof or roofline, it can be properly fitted specifically to your home. Other products are designed to be placed on top of your existing gutters — adding significant weight and posing structural damage to your roof and your home's foundation.

No maintenance required.

Because the narrow opening between the hood and gutter allows only water to pass through, K-Guard is an excellent example of a "set it and forget it" accessory for your home. There literally is no maintenance needed on your part. With the others, they'll even admit you'll need to regularly clear their systems. 

Water is kept from damaging your shingles.

With K-Guard, there are two ways for water to flow into the gutter before being diverted to the downspouts. Due to a design flaw with the other systems, windblown water can easily find its way underneath your shingles. 

They're visually appealing.

K-Guard gutters have a smooth finish that resembles crown molding, and are available in a wide variety of colors. In fact, the colors of the hood and gutter are matched, so there's more of a uniform appearance. The other systems merely attempt to match the color of your existing gutter – sometimes it works out, but it often doesn't. Other systems also tend to be chunky and look out of place. 
How well does K-Guard handle icy and snowy conditions?
We have a healthy respect for Mother Nature. That's why we designed and built K-Guard Systems to withstand practically any amount of snow or ice buildup as well as gusting wind. 
Because of the design of other systems, ice will continually freeze and thaw – which can eventually pry the gutters from your home. 
K-Guards, on the other hand, are designed for ice to form on the outside of the gutter, rather than inside. Because of this, thawed ice simply falls away instead of refreezing. 
How do I get more information about K-Guard for my home?
We'd love to talk with you about our K-Guard Leaf Free Gutter System. In fact, we encourage you to take advantage of our free estimate offer by contacting your nearest K-Guard dealer. You can also get in touch through our online contact form or by calling us at (614) 568-7777.