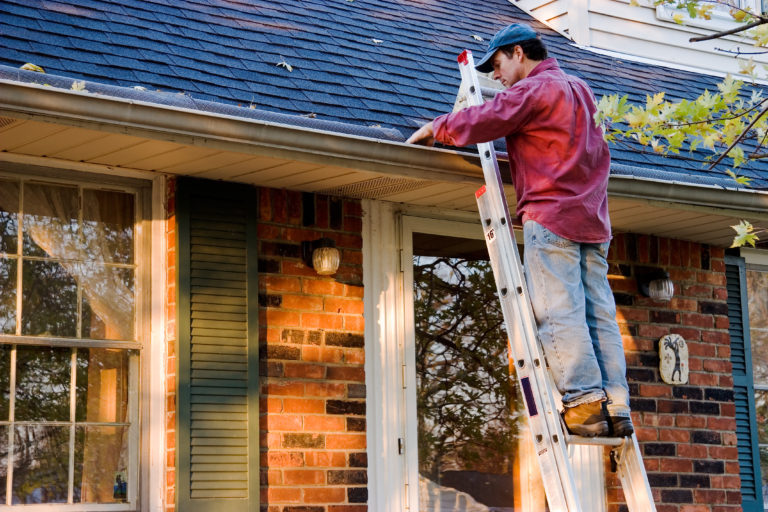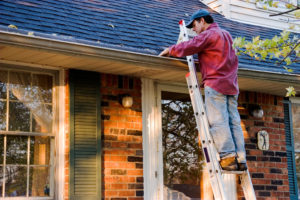 When your house gutters become blocked with leaves and other debris, it is necessary to clean them. This often means climbing a ladder to reach your roof. It is important to follow some safety tips to avoid dangerous falls.
Have a Spotter. Anytime you climb a ladder, it is essential to have a spotter on the ground. This person will help brace the ladder so that it is secure. It is extremely common for ladders to kick away or slip at the bottom. When this occurs, you may experience a terrible injury.
Do Not Overreach. Most ladders are heavy and hard to control. It is often tempting to reach out as far as you can to avoid moving this clunky piece of equipment. However, you should not lean, overreach, or try to move the ladder while you are standing on it. It is essential to climb down and manually move the ladder to where it is needed.
Wear Proper Footwear. When you clean your gutters, it will be necessary to frequently move up and down your ladder. This means it is important to wear the correct type of shoes with rubber soles. The rubber provides adequate traction so that you do not slip and fall.
Inspect the Ladder. One of the best tips for ladder safety is to examine the tool before climbing up. You should look for cracks or loose hardware that my cause the ladder to break. Also, it is important to take note of the maximum capacity so that it does not collapse.
Use Proper Tools. When considering ladder tips, it is important to include the need for proper tools. For example, when cleaning your gutters, you should have a broom, vacuum, and flusher handy. It is also important to be connected to a harness, especially when scaling a two-story home. It is essential to use the correct ladder as well. It is never wise to place a stepladder on the roof. An extension ladder is the best tool for tall structures.
To avoid the need to use a ladder and risk injury cleaning your gutters, you may wish to consider our K-Guard System. Our product is unlike anything on the market and provides strength, durability, and attractiveness to your home. Our patented system covers your gutters and keeps leaves and debris from causing clogs. For more information, visit our website.