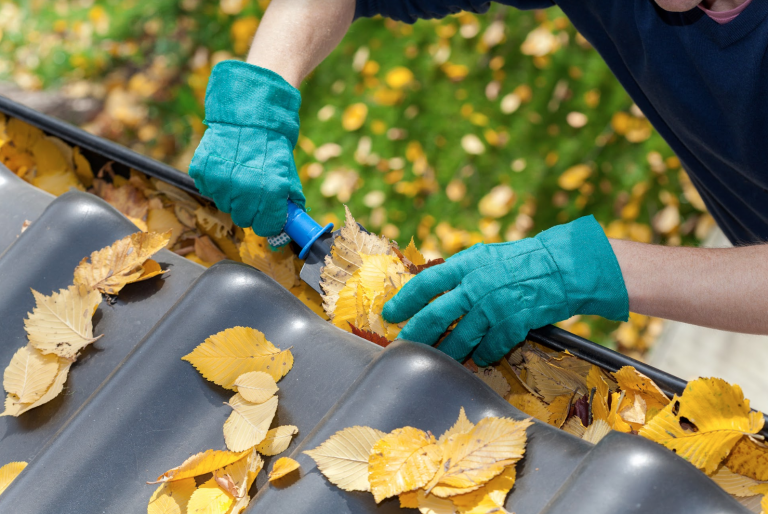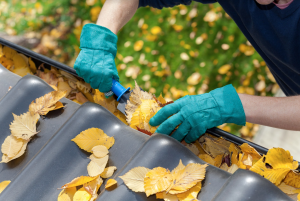 You tell yourself the same thing every year, "this is the last time I'm climbing up this ladder." You've been dreaming about the day when your roof is leaf-free, you can put the blower and ladder away and get your mind off cleaning out the gutters and onto important things like family, fun and friends.
Even though you've been toying with the idea of leaf-free gutters for awhile now, you may be holding back because you still have questions about how these leaf-free systems work, and which system would be the right one for your situation. 
No more leaves, twigs, debris or clogs!
You've got better things to do with your time than cleaning out the gutters. Not only that, but it's just not safe!  If you have an inefficient gutter system like your current one, it can wreak havoc with your home's foundation and roof, causing all kinds of problems from water stains to rotting fascia boards. 
Traditional, open-top gutters notoriously collect leaves, pine needles and other debris that cause gutters to clog, thus preventing effective water drainage.  The result of that bad drainage can lead to a whole host of issues that aren't obvious until you're left to deal with the results, like wall and ceiling damage due to water leaks or seepage.
A good leaf-free gutter system can offer peace of mind and never requires climbing ladders to keep gutters clean. And because they look as good as they protect, a leaf-free system is a smart investment that blends in beautifully with your home and can ultimately boost your property value.
How the K-Guard leaf-free system works
A leaf-free gutter system is designed to do one thing — to channel rainwater and debris down and away from your property's foundation and surrounding areas for maximum efficiency and protection.  
That's why the K-Guard leaf-free gutter system is built to exacting standards using innovative patented, high-strength hanger design of all-weather high-impact polymers for optimum durability and performance.  And because our gutters are a full 5 inches wide, they're able to drain water more efficiently than smaller leaf-free gutters or gutter covers.
K-Guard system offers unbridled durability and protection:
No gutter sag, no maintenance –

high-strength hanger design keeps its form no matter what the external conditions. No need to tend to gutters ever again!

Better capacity for better drainage –

K-Guard gutters are a full 5-inches wide and can accommodate larger, 3×4-inch downspouts for more water/debris drainage than other, smaller systems.  

Long lifespan, no more clogs –

both

gutter and hood are made of heavy-duty aluminum that is non-corrosive and practically invincible against extreme weather conditions. No clogs ever!

Blends right in with your home –

most gutter systems have sharp corners and vertical faces, whereas K-Guard gutters' smooth, curved appearance blends in effortlessly with your home. With a wide variety of colors available, you can find the perfect solution. 
We may be a tooting our own horn, but we think we've got the best gutter system around. The competition is tough, but our K-Guard system is tougher, so when you compare apples to apples, other systems just don't measure up.
Larger 5" size –

K-Guard 5-inch gutters are a full inch larger than traditional gutters and can hold 70 gallons per foot

High performance, patented design –

K-Guard gutter systems replace your gutters as a whole and are engineered to work together for optimum performance and durability. 

No hindrance to shingles –

unlike most gutter systems, K-Guard attaches to fascia boards and rafter tails instead of roof shingles, so if any other unrelated issues arise you can rest assured your roof warranty won't be affected. 

Two drainage channels instead of one –

regular gutters only have a single drainage channel, which sometimes can't prevent windblown water from going up under roof shingles. K-Guard gutter systems have two drainage channels that flush away water quickly and efficiently.

No cleaning or declogging needed –

K-Guard Gutter Guards are designed and patented to never need any cleaning inside the gutter, unlike other systems that require seasonal declogging.

Good looking, custom-fit –

while competitors' gutter guards are designed to fit onto existing gutters, K-Guard gutter systems are engineered to attach to your home without obstructing the roof or roofline.  In contrast to the sharp corners and vertical faces of other gutters on the market, they also feature a smooth, curved design in a variety of colors to complement your home. 

Lifetime no-clog warranty –

non-corrodible, heavy-duty aluminum K-Guard gutter systems never sag and are built to withstand adverse weather conditions. Innovative, patented, high-strength hanger design ensures optimum performance and durability.

Free professional installation in just one day –

to make sure you're getting the very best of your new gutter system, K-Guard contractors will come to your property with specialized equipment and install it for you in just one day.

K-Guard quality and experience –

with an unprecedented reputation for quality and excellence in home drainage systems since 1998, K-Guard has been field-tested with over 35 million feet of gutter guard systems installed across 37 states. You can trust your property is in good hands!
So what do you say? Are you ready to put down the ladder and pick up the phone?
Call us today at 614-568-7777 and let's get started.