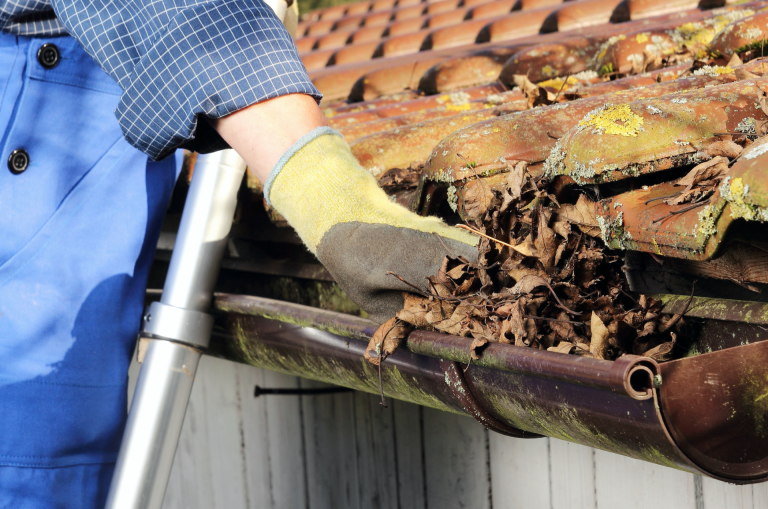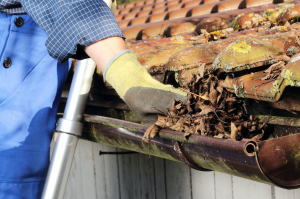 When thinking about a good gutter system, perhaps the first thing that comes to mind is the expense.  While owning a home can be a real pleasure, the expenses can oftentimes quickly add up. From deciding which colors to paint your walls to the flowers you'll plant in your garden, it can get pricey.  And then comes the whole other world of home maintenance problems — there are so many areas to ensure are properly maintained in order to avoid costly fixes down the road.
However, there could be a much less stressful way to deal with such issues.  Getting a good gutter system is the answer to many household woes and a preventative solution that could save you time, headaches and money in the long run. 
How do I know if my gutters are bad?
While traditional open-top gutter systems are the norm, they not only collect rainwater, but also leaves, dust and other debris that quickly clog and prevent effective water drainage.  Unless you're always on top of seasonal gutter cleaning, clogging issues aren't obvious until untold damage has occurred — usually manifesting in cases such as water-staining and rotting fascia boards.
What's a good gutter system?
A good gutter system ensures that rainwater is effectively drained away from your property for maximum efficiency and protection. It should be able to do this entirely independently without needing constant care and maintenance.  With the incorporation of a gutter guard (a hood that covers the gutter) water flow is controlled and protects against windswept leaves and debris.
As well as eliminating the need for dangerous ladder-climbing chores, a good gutter system also increases the value of your property and makes it easier to sell in the future.
Which gutter system brand is best for my home?
The best gutter system brands provide a complete service, value for the money and the option extended the warranty to give you peace of mind for many years.  The gutters should be able to withstand all weather conditions and work efficiently with minimal upkeep.
K-Guard Gutter Guards stand out as being one of the best on the market.  Offering a complete system built around patented, high-strength hangers, no other gutter systems provide the same capacity, durability or attractiveness.  Just some of the benefits include:
A lifetime warranty:

 Yes, you read that right.  K-Guard's gutter guard system is so resilient it gives your home a virtually endless lifespan of protection.  Made of non-corrosive, heavy-duty aluminum, K-Guard's gutter, hood, and downspouts protect your home against all adverse weather elements.

Low maintenance:

Because K-Guard Gutter Guards are made to last and feature an innovative, patented, high-strength hanger design, you can rest assured they will always keep their form and require zero upkeep once installed.  You'll never again have to risk your safety climbing ladders to keep your gutters clean — there just won't be any need to.

Greater capacity:

K-Guard gutters are a full 5-inches wide and can accommodate larger, 3×4-inch downspouts for more water and debris drainage than other smaller systems.

Attractive appearance

:

K-Guard gutter systems are custom-fit and feature a smooth, curved look as opposed to the sharp corners and vertical faces of traditional gutters.  Available in a variety of colors, your new gutters can offer you beauty as well as functionality.
How does K-Guard compare to other gutter systems?
Here are a few key differences that set the K-Guard gutter guard system apart from other competitors:
Size:

  K-Guard 5-inch gutters are a full inch larger than traditional gutters.


Performance:

K-Guard gutter systems replace your gutters as a whole and are engineered to work together for optimum performance and durability.

No hindrance:

Unlike most gutter systems, K-Guard attaches to fascia boards and rafter tails instead of roof shingles, so if any other unrelated issues arise you can rest assured your roof warranty won't be affected.

Two drainage channels:

Regular gutters only have a single drainage channel, which oftentimes cannot prevent windblown water from going up under roof shingles.  K-Guard gutter systems have two drainage channels that flush away water quickly and efficiently.

No cleaning needed:

K-Guard Gutter Guards are designed and patented to never need any cleaning inside the gutter, unlike other systems that require dangerous seasonal declogging.

Custom-fit:

While competitor gutter guards are designed to fit onto existing gutters, K-Guard gutter systems are engineered to attach to your home without obstructing the roof or roofline.  In contrast to the sharp corners and vertical faces of other gutters on the market, they also feature a smooth, curved design in a variety of colors to complement your home.

Unlimited lifespan:

Made of non-corrodible, heavy-duty aluminum, K-Guard gutter systems never sag and are built to withstand adverse weather conditions.  Its innovative, patented, high-strength hanger design ensures your gutter system stands the test of time.

Free professional installation:

To make sure you're getting the very best of your new gutter system, K-Guard contractors will come to your property with specialized equipment and install it for you in just one day.
A lifetime of hassle-free protection
Owning a home should be a pleasure, not a pain. If you could save yourself the hassle and money drain of constant repairs and maintenance, wouldn't you invest in a protective measure today? One that keeps you safe from dangerous chores, worry, and an uncertain future valuation?  Installing a K-Guard gutter guard system could be the last time you ever have to think about gutters – and that's more than worth its price alone! Focus on the pleasure of enjoying your home as intended with a lifetime of protection from K-Guard. Give us a call today for more information at (614) 568-7777.