While most homeowners are keenly aware of basic structures like trusses and beams when it comes to their roof, many don't realize the importance of soffits and fascia boards. Soffits and fascia boards are the materials that are used to seal up the edges of the roof and finish out the spaces where the rafter tails are exposed to the open air. Fascia boards are the ones that run horizontally around the roof's edge under the shingles. These are best protected by a gutter system like K-Guard Gutter Guards.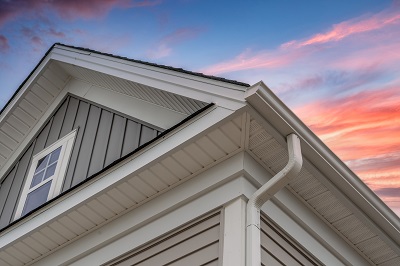 Soffits, meanwhile, are the boards that are tucked under the overhang of the roof, covering the rafter tails. If they become damaged via rot or other causes, they can severely threaten the structure of the roof, leading to instability in the entire structure.
We are here to help! Give us a call today to see how the K-guard Gutter System can help protect your soffits from rot.
What exactly do soffits do?
It's easy to overlook the role of soffits, assuming they are just there to give your home a neat and finished look. The truth is, however, that they serve very important structural roles as well. Protecting your roof and attic spaces from water is one of their primary roles. The quantity of water that is carried upward in a windy storm can be surprising. Soffits also prevent humid air from gaining direct access to your roof edge and rafters, saving them from rot.
Also, soffits provide structural support, joining the edges of rafters together, and help with energy efficiency, providing an enclosed, insulated space in your attic that helps control your utility costs. Another important role they play is in keeping out unwanted pests and rodents. No one wants critters crawling around in their attic! Soffits help to seal off access to these unwanted visitors.
How do soffits get damaged?
Since one of their main functions is to protect your roof and attic from rain and sun, you need to take proactive steps to protect them. This includes installing a K-Guard Gutter System to make sure that water is effectively and efficiently moved away from your roof and property.
Some warning signs could alert you that your soffits may be in danger of rot or other damage.
Flaking paint or cracks. Finding flaking paint or cracks is one of the easiest ways to tell that water has intruded underneath the protective coating on your soffits. If you notice damage like this, it's a sure bet that the soffit underneath has been damaged. We highly recommend that you consult a professional to find the source of the leak and create a mitigation plan.
Evidence of pests. One of the worst nightmares of a homeowner is when you hear the telltale scratching of critters in your attic or find the debris and droppings these unwanted guests leave behind. Both bugs and rodents are capable of causing severe damage to your attic and roof, and their presence could mean that the soffit has developed gaps and is no longer sealing off your attic spaces appropriately.
Asbestos. Particularly in older homes, if you notice damage to your soffits, you'll want to make sure that the rotting and deteriorating materials don't contain asbestos. Older homes often included materials that were manufactured using asbestos in the construction of their soffits, so you'll want to be sure to have that checked.
Pooling water. There can be a no more obvious sign of trouble than the discovery of pooling water in your roof void. If left unnoticed, water can quickly cause significant damage to your roof. This could lead to costly repairs to mitigate the effects of rot, mold, or structural damage. We highly recommend that you check your soffits and other roof structures regularly for signs of water damage. If caught early, you can avoid expensive repairs down the road.
Poor ventilation. Since one of the primary reasons to install soffits in your home is to control the flow of air and manage ventilation in your attic, noticing poor or little ventilation is a sure sign that the soffits aren't functioning as intended. If they are damaged or blocked, moisture and humidity can quickly cause rot, not only in your soffits but in other parts of your attic and roof structure as well.
How can I prevent rot and other damage to my soffits?
The best thing that you can do to prevent damage to your soffits is to make sure that rainwater is effectively and efficiently moved off of your roof and away from your property.
When you call a K-Guard Gutter Systems expert, they will perform a thorough evaluation of your roof structures, including your soffit. There may be specific areas that need more attention, and we'll work hard to make sure that your roof and soffits are functioning perfectly as they should. We'll give you peace of mind knowing that your property is protected, providing you with a safe and healthy home!
Contact us today to learn more about the K-Guard Gutter System.