While having the appropriate gutters is essential to making sure that water flows away from your home, where it ends up once it leaves the gutters can be just as important. Installing a K-Guard Gutter System on your home is the first step you should take to protect your property.
Once you've taken the right steps to keep rainwater from penetrating your home, it's time to start thinking about the best ways to move the excess water off your property altogether. Drainage problems can lead to severe issues, including foundation problems, wet basements, and the growth of mold and mildew.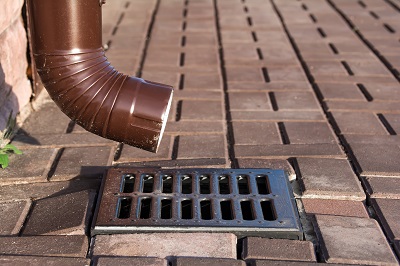 Good drainage is essential to ensure that your house remains dry and mold-free. Not only does it increase your property value by making sure that your foundation and basement remain dry and stable, it also helps create an outdoor space that you can enjoy throughout the year.
How do I know if I have a drainage problem?
Pooling water on parts of your yard is the most obvious sign of trouble, but there can be other, much more subtle signs of trouble. Keeping an eye out for these tell-tale signs could alert you to the need for a drainage solution:
Drifting mulch
Soggy ground
Flaking paint or bubbles in your basement walls
Pooling water in your basement
Mildew smells
Mold
What can cause water drainage problems?
There may be several reasons that you could experience water drainage problems. Often the biggest culprit is ineffective grading of the yard. Grading is a technique used in landscaping that creates a gentle slope to the yard, moving away from your home. In many cases, the grading is so slight that you won't even notice. During heavy rains, even a slight grade can help move excess water away from your house, preventing pooling and water penetration of your foundations.
Grading isn't always possible, however, and you may need to install French drains or other solutions. French drains are essentially shallow trenches dug and then filled with gravel that channel excess water in the desired direction.
Also, don't forget to check your driveway. An improper slope on your driveway could cause water to pool directly next to your home instead of moving it away! Making sure that water doesn't pool on your property, especially near your foundation, is critical in preventing structural problems from developing.
How does proper drainage work?
Your K-Guard Gutter System specialist will help you create a drainage plan that not only keeps your house dry, but moves water away from your property. Contact us today to learn more about the K-Guard Gutter System.
Since the majority of us aren't lucky enough to have a perfectly graded property from the start, your drainage plan will likely include the need for an underground water drain.
Your K-Guard specialist will help you assess your property, paying particular attention to the grade, slopes, low lying areas, and surrounding properties. The appropriate grading for the yard or trench is about an inch of downslope for every eight feet in the direction you want the water to flow. It's best to divert the excess water to a drainage ditch, storm drain, the street, or even a dry well.
What are the pros and cons of installing an underground water drain?
Whenever you're talking about managing excess water on your property, the pros inevitably outweigh the cons.
Some of the cons include the difficulty of installation and continued maintenance. Installing underground water drains requires a good deal of planning, making sure that you don't interfere with underground utilities like gas, water, and electric lines. The construction itself can be disruptive, requiring excavation, even temporarily needing to move patio pavers. Once installed, you'll need to make sure that they don't get clogged with debris or mud, keeping them clear so they can do their job.
The pros, on the other hand, will make your property more valuable and much more usable! Some of the many pros include:
Efficient drainage – in conjunction with proper grading, underground water drains are extremely efficient at managing excess water on your property.
Affordability – underground water drains are surprisingly affordable, especially compared to other alternatives like basement waterproofing.
Transforming – underground water drains can quickly transform your property, increasing its value and making your space more usable and enjoyable.
Pro-active – Making sure that you properly manage water on your property starts with installing a K-Guard Gutter System on your home, moving the water away from your property, preventing potential foundation water damage, and other problems down the road.
A comprehensive water management system on your property is critical in helping you increase your property value and in maintaining a healthy and safe home for your family.
How can I get started?
Contact us today to learn more about the K-guard Gutter System and how our specialists can help you create a comprehensive plan to manage water on your property!