Among the biggest benefits of installing a K-Guard Leaf Free Gutter System is its ability to withstand leaking. This one K-Guard advantage can save you thousands by not having to repair water damage to your home and hours of worrying about whether your gutters will hold-up.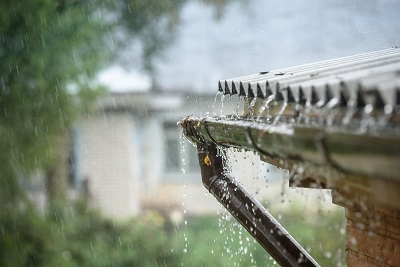 Because of their revolutionary design, each K-Guard Leaf Free Gutter System has fewer joints than seamed models. This seemingly simple design feature makes gutter leaks far less likely for K-Guard gutter systems.
Why Do Other Gutter Models Tend to Leak so Much?
Fewer points of entry. Unlike the K-Guard gutter system, most other gutters have numerous joints and points of entry for practically anything to penetrate. K-Guard Leaf Free Gutter Systems have much fewer joints.
K-Guard is not attached to your shingles. Most gutter systems are attached directly to your home's shingles, which can easily weaken their integrity. K-Guard Leaf Free Gutter Systems are attached to the fascia board or rafters of your home. These sturdy anchor points ensure your K-Guard Leaf Free Gutter System is secured snugly to your home but presents no risk of damage to the structure itself.
Less clogging. Most gutter systems become easily clogged with leaves and other debris. This added weight weakens the gutters, makes them bow, and becomes easier to leak in various spaces at the same time. K-Guard Leaf Free Gutter Systems are designed with only a small opening between the gutter and the hood portion. Only water is able to get through to the gutter, where it's then channeled to the downspouts and away from the foundation of your home.
The pitch is true. If your regular gutter system isn't installed as it should, its pitch will be off. This makes it easier for water to pool in a central area of the gutter, weighing it down and preventing the water from being channeled to the downspouts. Each K-Guard Leaf Free Gutter System is installed to precise requirements. This means your K-Guard's gutter pitch is true and level. As a result, rainwater is easily channeled to the downspouts.
How Much Damage Can Really Be Done If My Gutters Are Leaking?
Plenty! If your gutters are leaking and you don't either fix them or switch to K-Guard, you're risking significant damage to your home.
Here are some of the most commonly reported home damage reports caused by leaking gutters.
A weakening of your home's foundation as the leaked water pounds down from the gutters directly to the base of your home.
Erosion of the soil surrounding your home because the water has not been channeled to the downspouts. As the soil around your home erodes, the foundation itself is also easily compromised.
Significant staining of the siding and concrete around your home caused by the pooling water.
Damage to your landscaping. If water is not sent through the downspouts and away from key areas of your yard, huge sections of it can be flooded and significantly damaged…perhaps permanently.
Mosquito infestations. Nothing is more inviting to these pesky pests than a standing pool of water. If your gutters aren't allowing rainwater to flow through them, your gutters may become a literal breeding ground for mosquitoes and other pests.
How Can I Tell If My Gutters Are Leaking?
There are several effective ways for checking on the health of your gutter system.
A visual inspection. Take a walk around your home, and make note of water falling from an area of your roofline that should not have water dripping from it. This is a classic sign that your gutters are filled and clogged…and weakened.
See how the water flows. Make sure you clean your gutters of any debris and clutter. Then, safely climb a ladder and place a garden hose in the gutter. After safely climbing down, turn the water on for the hose and see if you notice any water leaking out from the gutters.
K-Guard pro tip: with a K-Guard Leaf Free Gutter System, you'll no longer need your ladder to check on your closed gutter system.
If you've had to repair your gutter for leaks numerous times, it's probably the right time to change over to a K-Guard K-Guard Leaf Free Gutter System.
Beyond the minimal risks of leaking, you'll have far less maintenance with your K-Guard system. In fact, there's no maintenance required at all by you once your K-Guard Leaf Free Gutter System has been installed…this also means there's no more regular gutter cleaning to worry about.
In addition to protecting your home from water damage, a K-Guard Leaf Free Gutter System will be visually appealing as well. With a smooth finish like crown molding and a wide variety of available colors, your new gutter system will have a more uniform appearance. Other gutter systems tend to look clunky and out of place.
We'd love to talk with you about our K-Guard Leaf Free Gutter System. In fact, we encourage you to take advantage of our free estimate offer by contacting your nearest K-Guard dealer. You can also get in touch through our online contact form or by calling us at (614) 964-5644.