The phrase "saving for a rainy day" was obviously coined by someone who knew the expenses associated with the fixing of home drainage problems.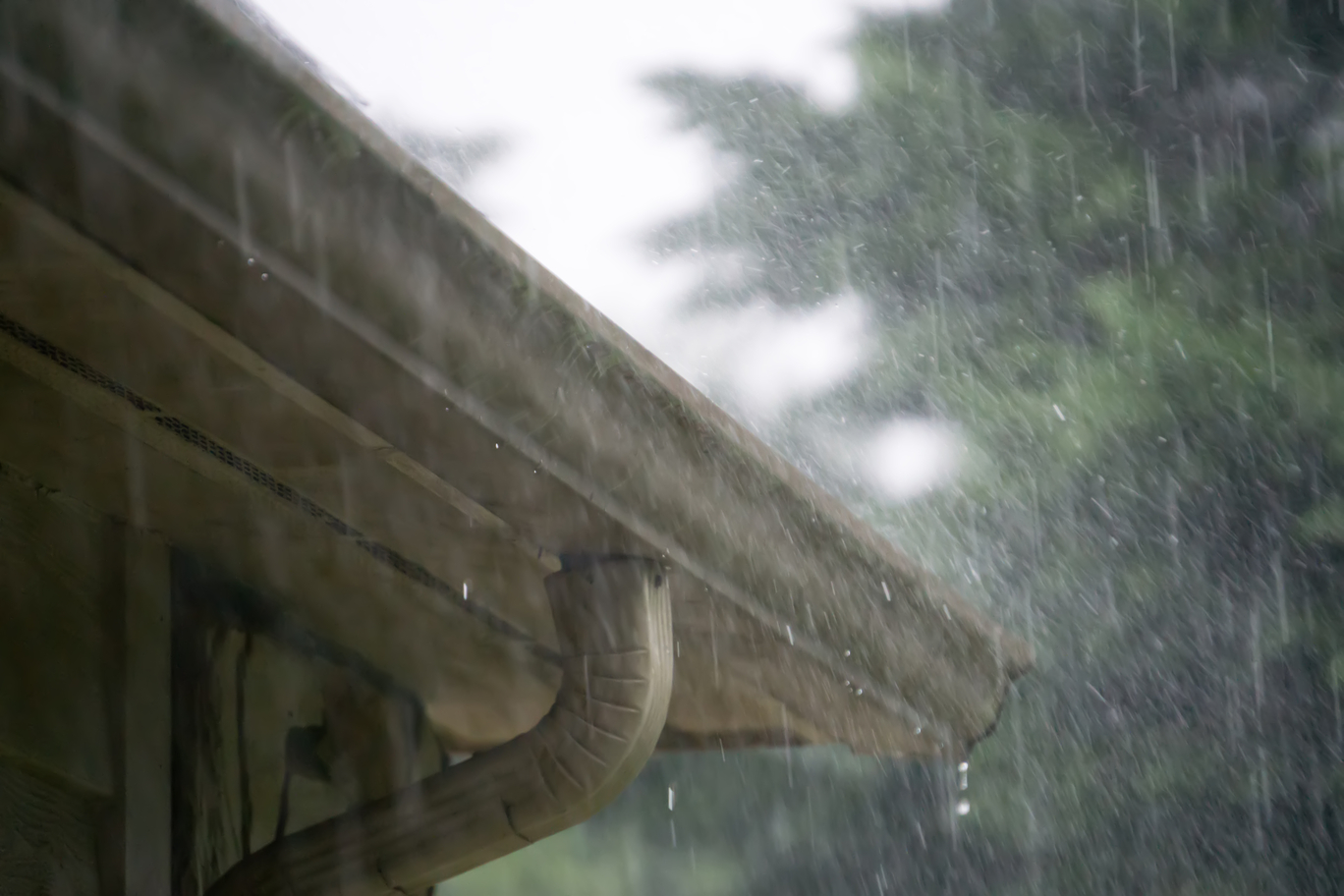 With spring showers in the forecast, it's especially important to understand the connection between overflowing gutters and downspouts with damage to your home.
With a K-Guard Leaf Free Gutter System installed on your home, though, spring showers will be just one less thing to worry about.
How can overflowing gutters damage my home?
Even though overflowing gutters may not catch your immediate attention – they should. Frankly, the damage potentially being done to your home should cause alarm bells to ring.
Beyond the initial discoloration, rot, and warping of your gutters and roofline, the spillover rainwater will find its way to your home's foundation. This is where the real damage begins. As it overflows the soil, a shift can be created around your foundation, opening the floodgates to cracks and instability. 
Costs associated with fixing water damage from overflowing gutters can easily run into thousands of dollars – and that's figuring conservatively. 
What can cause my gutter system to overflow?
Several factors can cause water from spring showers to overpower your gutter system.
Debris build-up in the gutters and downspouts. This can include everything from leaves and broken tree limbs, to granules from the shingles and debris carried by the wind. You'd be surprised at what can find its way into an uncovered gutter system.
The pitch and tilt of your gutter system is off. This occurs more frequently than you may imagine. If your gutter system isn't installed correctly, water from heavy showers can gather in one spot, rather than being guided to a downspout for safe exit.
Your gutters simply aren't big enough to handle the load. The power of rushing water is incredible. If your gutter systems are too small, the onslaught of water will simply gush right over it and mercilessly pound the ground soil as it finds its way to your home's foundation. Once the foundation is compromised, water leaks begin to show in your home.
Beyond the damage to your home's foundation, the overflow and pooling of rainwater can cause huge negative impacts to your landscaping, including trees, shrubbery and plants. They often simply cannot handle being literally drowned by torrential rainwater.
How can a K-Guard Leaf Free Gutter System stop my gutters from overflowing?
We've designed the K-Guard system for one purpose: to channel rainwater and debris away from your home's foundation – it's as simple as that.
No more leaves and other debris in your gutters.

As you can see from reading the above information, a clogged or inefficient gutter system can wreak havoc on your home, which for most people is their largest investment. With a K-Guard Leaf Free Gutter System, you're protecting that investment.
With each K-Guard system, there's a small opening between the gutter and the hood. This opening is so small, only water is permitted to pass through into the gutter, where it's channeled to the downspouts. There's simply no way possible for leaves, pine needles, shingle granules, etc. to find their way into your K-Guard Leaf Free Gutter System.
K-Guard gutters can handle more rainwater.

Even if a traditional gutter system is installed properly, most are only 3-4 inches wide. This makes it virtually impossible for them to handle a torrential rain from Mother Nature. 
Our K-Guard gutters, however, are 5-inches wide. Additionally, there are two ways for rainwater to flow into a K-Guard gutter, which is key to preventing windblown water from shooting back underneath your shingles. 
Additionally, we provide you with a 3-1/4-inch wide gutter bottom and 3×4-inch downspout. This enables a large amount of rainwater to flow seamlessly from your gutter system and safely away from your home's foundation.
No repair costs or ongoing maintenance required from you.

Because excessive rainwater is channeled away from the foundation of your home, you won't have to worry about the potentially thousands of dollars in costs for structural repairs.
Also, you'll no longer have a need to routinely clean your gutters of debris clogs. In fact, if your K-Guard Leaf Free Gutter System does experience a clog – for any reason – the installer will clean and correct the problem absolutely free of charge. 
In addition to all the functionality provided by K-Guard Leaf Free Gutter Systems is the fact that they're guaranteed to last, they're designed to add aesthetic value, and they literally strengthen your house's roof. 
To discover more about how a K-Guard Leaf Free Gutter System can save you time and money while protecting your home investment, we'd like to offer you a free estimate from your closest K-Guard dealer. 
You can also get in touch by completing our online contact form or by calling (614) 568-7777.