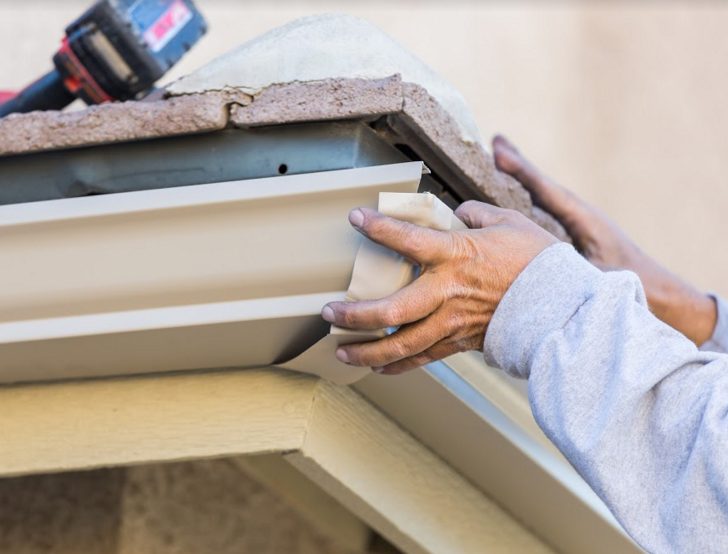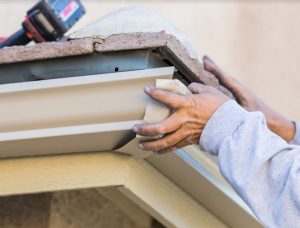 Knowing the difference between regular and seamless gutter guard systems isn't a usual requirement for owning a home, but can make all the difference in keeping your property as low maintenance as possible.  If you want to spend less time cleaning and maintaining gutters and more time enjoying your living space, getting a seamless gutter guard system installed on your home is a step in the right direction.
Why not 'seamed' gutter guard systems?
Regular, or seamed gutter guard systems, are the most commonly installed gutter systems because they are inexpensive and can even be installed in a DIY fashion. Often called sectional gutters, seamed gutters are formed around the home using smaller sections of gutters joined together at their seams. While a cost-friendly solution, problems can and do occur as debris collects and gets stuck in the seams, causing clogs and water leakage. If not regularly cleaned and maintained, a seamed gutter guard system stops providing any benefit at all leading to damage of your home's foundation, roof or even siding.
Seamless gutter systems, on the other hand, are slightly more expensive, but provide an unparalleled level of protection and benefits that far outweigh the cheaper options available.  Made onsite using a specialized gutter machine, seamless gutter systems are made to measure, with minimal seaming. Long runs of gutter are fitted to your home and only joint at the corners of the exterior, minimizing chances of leakage and requiring much less maintenance than traditional systems, if any.
How does a seamless gutter guard system benefit my home?
With less room for debris to accumulate and other 'small inhabitants' to nest, seamless gutter guard systems hardly need any attention at all.  This is because they have fewer joints and points of entry for anything other than water to get in. As a result, you don't have to worry about seasonally clearing out your gutters, risking your safety or spending extra money for maintenance.  They can also provide:
A custom-fit for your home: Because seamless gutter guard systems have to be created on site, you can be sure they'll be a perfect fit for your unique property.  When adjusted to your home's specific measurements, gutters can do what they're meant to do at optimal function and performance.
Fewer leaks:  Over time, joints can start to widen from each other forming holes where water can start to leak. Seamless gutter guard systems have fewer joints than seamed models and therefore, are less likely to have leakage problems.
Less clogging: Where there are more seams, there are more chances of snag and buildup of various debris, such as leaves, twigs and other airborne materials.  These can cause clogs that can sometimes create large blockages that prevent the system from flushing out water, leading to leaks and property damage.  As seamless gutter guard systems simply have fewer seams, these issues are few and far between.
Less need for upkeep: Knowing that you don't have to regularly check your gutters and that your home is adequately protected, you can sit back and relax, or focus on the more pleasing aspects of maintaining your home, like gardening your outdoor space or sprucing up a tired kitchen.
Why should I choose a K-Guard seamless gutter guard system?
With hundreds of seamless gutter guards on the market, it can be difficult to differentiate which ones are better than others.  Some may offer only the most basic seamless gutters without hoods, or only specific colors and materials.
Unlike other competitors, K-Guard seamless gutter guard systems give your home the full package as they are designed and engineered as a single, complete system, rather than as an attachment to existing gutters.   Each is custom-formed to provide optimal performance, unbeatable quality, and come in a variety of colors to best match your home.
In addition to providing all the above-mentioned benefits of a seamless gutter guard system, K-Guard also offers:
     

A lifetime no-clog warranty

     

A smooth design with various color options

     

Angled hangers for added leverage and strength

     

A full-sized five-inch rain gutter that can hold 70 gallons per foot

     

A patented design that fully supports front and rear gutter drainage

     

A 3-1/4-inch wide gutter bottom to accommodate the 3×4-inch downspout

     

A convenient, removable hood that is textured to offer an extra line of protection against markings from hail

     

A robust, high-strength, all-weather design kept secure by 0.027 to 0.032-inch thick coated aluminum (3105-H16 to H-24) or 16 and 20-ounce copper that's formed on site
Professionally installed by a K-Guard contractor, you can rest assured that your seamless gutter guard system will stand the test of time, and keep the chances of having to call out for repairs slim.  Enjoying an unprecedented reputation for quality and excellence in home drainage systems since 1998, K-Guard has been field tested with over 35 million feet gutter guard systems installed across 37 states, so you can trust that your property is in good hands.
Seamless gutter guard systems needn't be something you think about more than once in your lifetime of owning a home, but installing the right one can make the difference between wasting time and money, or focusing on the more pleasurable aspects of home maintenance.  We all know which is the more favorable option!