When you purchased your home, the chances are good that the thing furthest from your mind was the difference between regular and seamless gutters. That difference, however, can be critical in keeping the maintenance needed on your property to a minimum.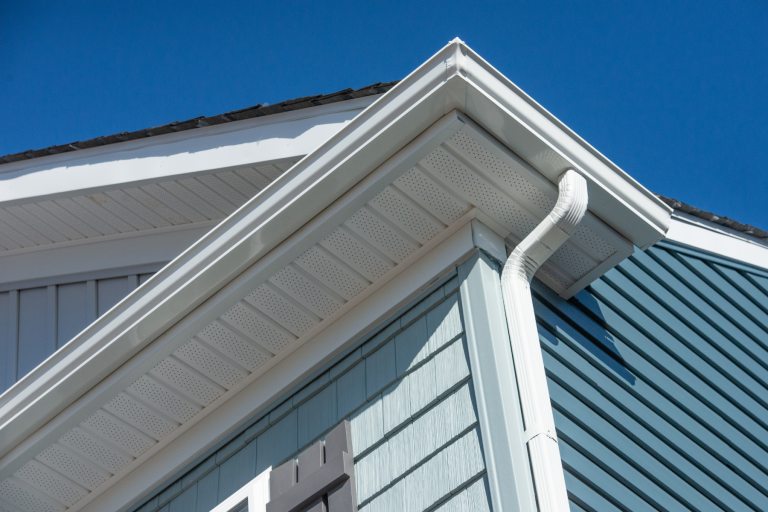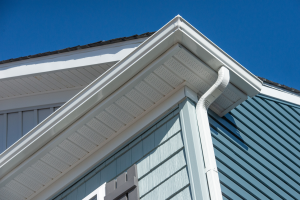 Unless you are the kind of person who enjoys spending time cleaning and maintaining gutters, installing seamless gutters, like the K-Guard Gutter System, allows you to spend more time enjoying your home and less time taking care of it.
Why not spend less time on ladders, and more time relaxing? Learn more about how the K-Guard Gutter System helps you with this goal.
Why are seamless gutter systems better than "seamed" gutters?
The most commonly installed gutter in the United States is the regular, seamed gutter. This is the case because they are inexpensive and easy to install as a do-it-yourself project. Also known as sectional gutters, seamed gutters are installed around the roofline by attaching small sections of gutters that are joined at the seams, hence the name "seamed" gutters.
Though this may be the cheapest and easiest solution, it can cause significant problems down the road. The seams where the gutter sections are joined collect debris, which in turn cause clogs and water leakage.
Unless you clean them out on a very regular schedule, the gutters will fill up and cease performing their intended function, allowing water to pool and potentially cause significant damage to the roof and structure of your home. Without regular cleaning and maintenance, seamed gutters will cease providing any benefit at all.
When it comes to seamless gutters, you avoid this problem altogether. While they may be slightly more expensive, seamless gutters systems provide an exceptional level of protection, and the benefit of avoiding dangerous and frequent maintenance is worth well more than the added cost.
Put most simply, seamless gutters, like the K-Guard Gutter System, are installed in long runs that are fitted exactly to your home, minimizing the chances of leakage caused by seams and requiring no maintenance for upkeep.
How do seamless gutters provide benefit to my home?
Prevent accumulation
Not only do seamless gutters prevent the accumulation of debris in your gutters, but they also stop the nesting of small inhabitants and other unwanted guests. This means you can completely ignore them, and they'll keep doing their job year after year!
A perfect fit
Another benefit is that they are custom-fit for your property. Since they are created and installed by pros onsite, measurements are exact and a perfect fit for your home no matter how unique your roof-line may be. By providing an exact fit, the gutters perform their function optimally, moving unwanted water away from your home without the need for regular maintenance.
Say goodbye to leaks
As mentioned above, seamless gutters also mean fewer leaks. Since there aren't any joints that can come loose, there is no need to worry about leaks. It also means less clogging since the main cause of clogs is when leaves, twigs, and other debris becomes snagged by seams and cause a build-up.
These clogs are the primary cause of blockages that prevent the gutters from moving the water away from your home. They are also the primary cause of gutter-related damage to your property.
Without the worry of unwanted clogs, you'll have less need for upkeep. You can rest assured that your gutters are working right season after season, year after year.
Why should I consider installing K-Guard seamless gutter guards?
While there are many different seamless gutter guards out there on the market, K-Guard Gutter Systems offer significant benefits. Others can be very basic, often without hoods and only available in limited colors or materials.
The whole package
K-Guard, on the other hand, gives you the complete package needed to provide complete coverage. They are designed and constructed as a single, complete system, rather than attaching to existing gutters.
Every piece is custom-formed to provide unbeatable performance and optimal quality. Not only that, they come in a wide variety of colors guaranteed to match your home!
Professional installation
Finally, K-Guard Gutters are only installed by professional contractors who are part of the K-Guard team. You can rest assured that your seamless gutters will last for years, minimizing the chance of having to request a repair. With a well-deserved reputation for quality and excellence in gutters since 1998, you can trust that your property is in the best of hands.
How do I make sure I have the best seamless gutters installed on my home?
The goal of K-Guard Gutters is to bring you back to that state of bliss you felt when you purchased your home, that time before you even considered the importance of seamless gutters.
Contact us today to schedule a free consultation. A K-Guard pro will come out and give you a free estimate, laying out a plan to install the last gutters you'll ever need to worry about again!