One of the best and easiest investments you can make in your home is to install an efficient and functional gutter system that is designed specifically to divert water away from your home's foundation.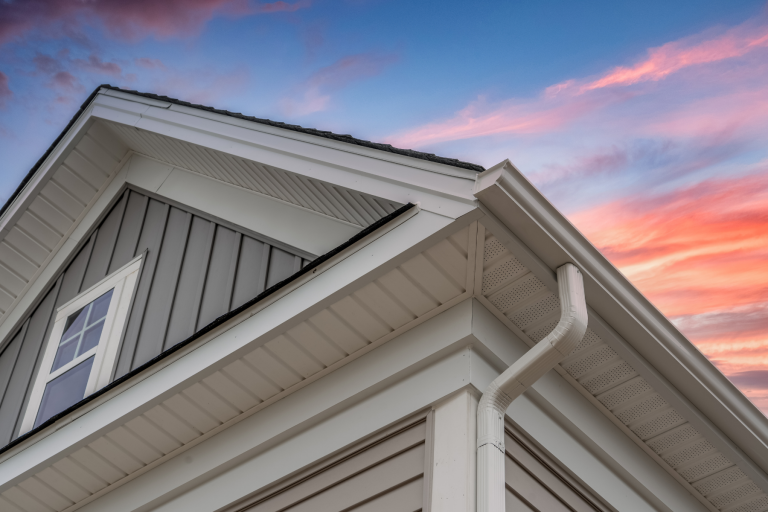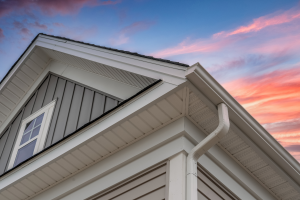 Gutters, which attach to the roofline of your home, are usually made of aluminum, stainless steel, or vinyl and are the key component in catching the excess rainwater and other moisture that collects on your roof. Water must be able to get into the gutter so that it can be properly diverted to downspouts and then away from your home.
As every homeowner knows, keeping your gutters clear of debris is one of the most challenging maintenance tasks. Not only do you have to perch precariously on a ladder, but you also have to scoop out the goop and other things that have been collected in the gutters.
The good news is that you can add the benefits of a gutter system to change the maintenance equation and keep you off those ladders for good! The K-Guard Gutter System requires zero maintenance after installation.
This means that you can rest assured that all unwanted water is being moved effectively away from your home without the worry and muss-and-fuss of climbing to your roof a couple of times a year to clean them out!
Give us a call today to have an expert technician assess your home's gutter system and show you how the K-Guard Gutter System is right for you. One of our experts will come out and give you a demonstration of how our gutter system will help keep your home safe.
What are the top three benefits of having gutter guards?
Gutter guards, like the K-Guard Gutter System, are specifically designed to keep organic litter and debris from getting into the gutters from the start. If they aren't in the gutters, there's no way they can then flow into your downspouts to cause clogs.
Save Time and Money
The first key benefit of installing gutter guards on your home is that they will save you time and money. By preventing debris from collecting in your gutters and clogging up the works, they ensure that the damage caused by water overflows is prevented.
They also eliminate the need for routine maintenance. This not only saves you time but helps keep you safe. Imagine not having to climb the ladder to your roof a couple of times a year to keep the gutters clean! You'll see significant savings in not only repair and maintenance costs, but also in the time you'll save by not having to worry about your gutters.
Protect Your Home
Second, gutter guards help to protect your home from several dangers, including mice and insect infestations, rust and corrosion, and even fire.
Since there is less stagnant water sitting in your gutters, as well as no debris that is inviting for mice nests, installing gutter guards will provide an extra layer of protection against unwanted pest infestation. Along the same lines, by keeping wet and soggy leaves out of your gutters, you have a far less chance of rust, corrosion, and rot occurring on your roof.
By keeping your gutters clear of debris, you also protect against fire along your roofline. Without tinder that can ignite in your gutters, you can rest assured that your gutter guards are adding a layer of protection to your home.
Gutter Guards Prevent Damage from Ice
Finally, gutter guards protect against and help alleviate the danger of ice dams and freezing water. When rainwater gets trapped in gutters as a result of blockages and clogs, the frost and freezing temperatures of winter will create ice dams. Ice dams not only block your gutters, preventing fresh rainwater from flowing freely, they also can expand and cause damage to your gutter and roof.
Gutter guards can help to prevent the accumulation of debris, which eliminates the possibility of ice dams. By making sure that rainwater is diverted away from the home, you won't have to worry about the rot and damage that could be caused by freezing water and ice dams.
What do I need to do to have gutter guards installed on my home?
The expert technicians that install K-Guard Gutter Systems are here to help! Give us a call, and we'll come out, provide a free assessment, and recommend how the K-Guard Gutter System can be easily and cost-effectively installed on your home.
While there a several different gutter systems out there in the market, we know that once you've seen K-Guard gutters in action you'll know why we are the market leaders. We stand behind our products with a 100% guarantee. Plus, if there is ever a need for repair, we'll come out and take care of it at no charge.
You've worked hard to keep your property safe and increase its value. Installing a gutter system is one of the best investments you can make!