At first glance, a gutter that has water flowing over the sides instead of through the downspout may not seem like a big deal. Sometimes, in a torrential downpour, overflow inevitable because the water is collecting in the gutters faster than it can get through the downspout.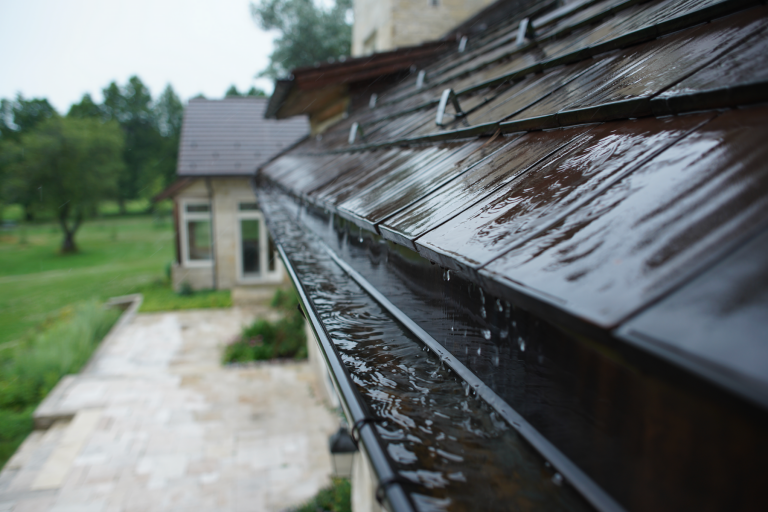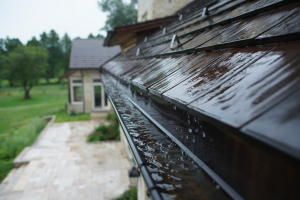 If you see overflowing water in your gutters on a consistent basis though, it's probably time to identify the problem and enact a solution. After all, gutter systems are in place for a reason, and even though they may seem like a minor aspect of your whole home health, the amount of damage that can occur without proper drainage can be devastating.
Why Is My Gutter Overflowing?
It doesn't take a home improvement professional to understand that the reason why water isn't going out through a downspout is because there's blockage. Probably 90 percent of gutter overflow is caused by leaves, whirlybirds, roofing granules, and other materials that create a roadblock to the drainage system.
It's important to note that it's not always debris that is causing your gutters to overflow. Gutters also need to have a slight pitch to them, roughly 1/2 inch for every 10 feet of length. Gutters that are leveled will overflow because the water isn't forced anywhere, but it should also be noted that too much of a pitch isn't good either. Not only are radically pitched gutters an eyesore, they'll also force out water at a faster pace than the downspout can drain it, which also causes overflow.
Dangers of Overflowing Gutters on a Home's Exterior
Some homeowners might think it's not that big of a deal that their gutters are overflowing, because who cares if all the water doesn't get into the drain, right? That sentiment is not true even one bit, because it's where the water goes instead that can be very damaging.
Storms that bring rain also usually bring wind. The water that is overflowing over your gutters is then almost inevitably going to get blown into the most vulnerable spots on your exterior – around windows and doors.
Even before leaks around these areas start, the moisture exposure will start to rot the wood framing around the windows and doors, which is ultimately either going to lead to a costly replacement ($21,000 national average for the windows alone, according to a 2020 "Cost vs. Value" report published by Zonda) or air leaks that could drive up utility bills and cause early replacement of HVAC systems.
Even if there isn't always wind blowing water toward windows and doors, soffit and fascia will almost always see some exposure. When soffit and fascia start to rot, there's some risk of water trickling down interior walls, but you'll almost assuredly see rodent and insect infestation.
Foundation and Basement Water Damage From Gutter Overflow
Believe it or not, the costliest damage from water flowing over your gutters isn't necessarily in your windows, doors, or fascia – it's to your foundation. When gutters are clean, pitched, and properly fastened, they collect water off the roof and disperse it safely away from the home, either out in the yard or the street.
When the rainwater doesn't make it to the drain, it overflows all around the house, collecting near your foundation. When soil isn't graded away from the house, that water will all run toward your house. Eventually the soil around your foundation will become soft and saturated, which will allow the concrete to shift and ultimately crack. Once those cracks form, it's not long before all that water starts finding its way into your basement.
It's pretty obvious how damaging water in the basement can be, especially in a finished space. Mold, mildew, bacteria, and even the potential for electrocution soon follow. That's not even mentioning the costly foundation repairs that must be performed to prevent future floods.
Fixing Gutter Overflows
What can be so frustrating about the damages (and costs) that result from overflowing gutters is that they are so easily preventable. The #1 step a homeowner can do to prevent these issues is to simply clean the gutters. An annual cleaning in the spring should be the bare minimum, but it would greatly benefit your home to remove the leaves and other buildup before winter as well. Some people clean their gutters every three months based on their climate and the amount of foliage in the area.
Debris clogging isn't the only issue that causes overflowing gutters, though. Gutters may need to have pitch adjusted from time to time, may need to be re-fastened/have fasteners reinstalled, or may require the damaged fascia that is the structural support replaced as well.
Perhaps the easiest way to prevent gutter overflow and also avoid the maintenance costs associated with having to hire a company to clean out the blockage is by installing gutter guards. These simple products attach overtop the gutters and allow water to enter while at the same time blocking leaves and debris from entering the gutter.
Gutter Overflow Summary
The good news is that the fixes for gutter overflows (in the early stages) are much more convenient and less costly compared to the damage that can result if left unchecked for years. Window replacement, foundation repairs, basement remodeling, siding replacement, etc. are much higher end projects than picking some leaves out of a downspout – something to consider.