Cleaning the gutters is one of those tasks that homeowners face every year. And let's be honest, nobody likes climbing rickety ladders to scoop goop out of gutters, so it's a task that is often put off until it can start to cause serious damage to your roof and walls, not to mention being very unsightly!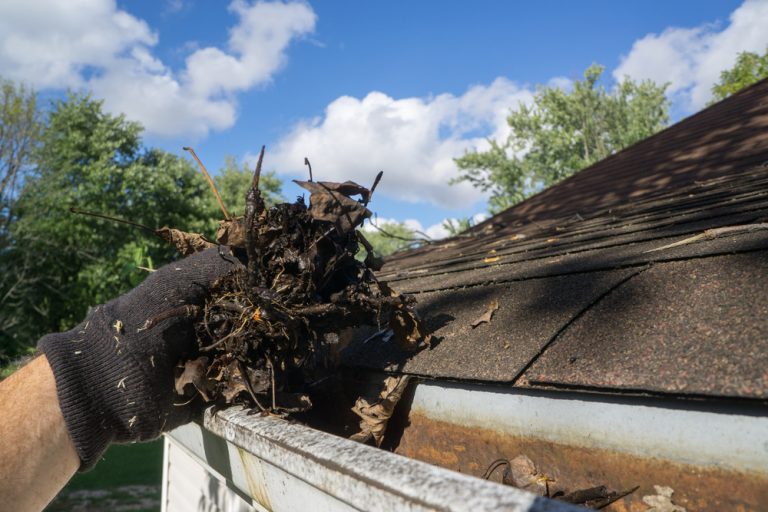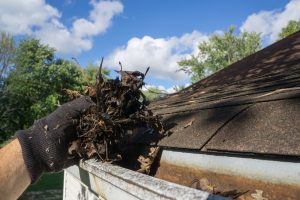 There are solutions out there that can eliminate the need for regular cleaning and unclogging! Scaling ladders to clean outdated gutters is a thing of the past with the development of improved leaf guard systems.
Savvy homeowners know that the value of their property is only as good as the strength of its foundation, and a good gutter system that efficiently and effectively moves unwanted rainwater away from the property prevents leakages, damaging debris, and rot from causing unwarranted damage to your home.
If your home is still sporting open-topped gutters, you are stuck climbing those ladders and risking unnecessary water damage. You should contact a gutter specialist, like K-Guard, right away to see how new leaf guard systems like the K-Guard Gutter Guard system can not only make your life easier but increase the value of your property as well.
How exactly do leaf guards work?
A critical component of an effective gutter system, leaf guards help to prevent airborne debris from creating blockages in your gutters. Some come as separate guards that are meant to be fastened to the top of existing gutters, while others are designed to replace your gutters entirely as a custom set. The K-Guard Gutter Guard System incorporates a helmet-type leaf guard secured on top of a 5-inch gutter, replacing your existing gutters with a complete solution that moves unwanted water away from your home efficiently.
The two most common types of leaf guards are gutter screens and gutter covers. Gutter screens are usually made out of wire mesh, foam, or nylon, while gutter covers can be made out of many different materials, including plastic, aluminum, and copper. Gutter covers tend to look better and are longer-lasting and are generally more effective at allowing water to flow through while limiting or even eliminating the amount of debris that gets trapped in your gutters.
Not only do leaf guards help you reduce the need for regular maintenance, but they also have a positive effect on the curb appeal of your home and increase its value.
How do I choose which gutter guards are the best for my property?
There are certainly many different kinds of gutter guards on the market right now. Finding the perfect solution for your home can be difficult, and with so many options out there, many homeowners ask which is the best solution for their home.
The easiest and quickest option is to install leaf guards that affix on top of your existing gutters. While this may give your home some temporary protection, assuming there aren't any issues with your existing gutters, they are often poorly fit and will only be effective for a season or two, putting you back on that ladder!
Most experts agree that it's best to start from scratch and invest in an integrated gutter and gutter guard system. A solution like the K-Guard Gutter Guard system is fully integrated and specifically engineered to effectively and efficiently move unwanted rainwater away from your property.
Constructed out of heavy-duty aluminum and specially designed high-strength hangers, once installed, you won't have to worry about your gutters for years. Imagine never having to climb your rickety ladder to the roof again! They don't sag or corrode, and their effective technology will keep your gutters free of clogs while protecting against wind, heavy rain, and even ice.
They even give you a bigger capacity, since they are a full inch wider than more traditional gutters. This means that your gutters and downspouts are far more effective at letting the water flow from your roof. They are available in multiple colors, and their curved appearance will allow them to blend into your roofline, creating a far more pleasing look than traditional gutters.
What is the best way to install leaf guards safely?
Since the whole point of installing a maintenance-free gutter system on your home is to avoid having to climb unsafe ladders, it's likewise the best idea to have a licensed, reputable gutter guard company do the job for you. A technician will come out to your home, analyze your needs, and present an estimate that includes all materials, time, labor, and any specialized equipment needed for the installation. These highly trained professionals can knock out the job safely and efficiently in no time at all.
An added benefit is that if you choose a system like the K-Guard Gutter Guard system, that might just be the last time you'll need a visit from a gutter professional! Due to their effective design and high-quality construction, you may never need for professional gutter cleaning again.
Contact us today, and we'll link you up with a professional gutter specialist to help you make cleaning your gutters a distant memory.