One of the most important parts of your home is undoubtedly the roof because it keeps the water from pouring inside! But what happens to all of that water that runs off? If you don't take steps to move it effectively and efficiently away from your home you could face serious damage, from cracked and shifting foundations to rotting soffits and sidings.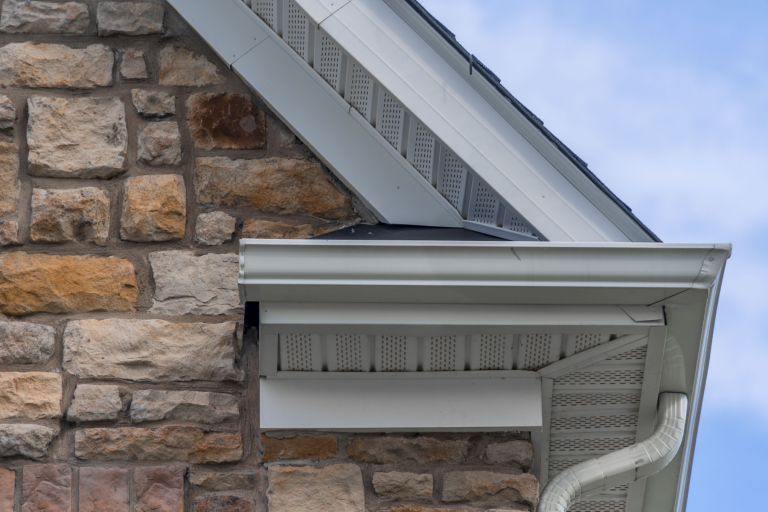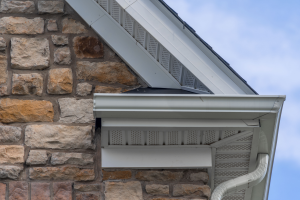 This is where gutters come in. By providing an efficient channel to move water away from your home, you can prevent significant damage.
There are many different kinds of gutters out there, with many different styles and construction, but not all are created equal. The K-Guard Gutter System is the industry leader when it comes to moving water away from your home.
How do rain gutters protect my home?
Every building requires gutter protection to make sure that excess rainwater is dealt with appropriately. Leaking water from gutters or overflowing gutters can cause damage to your home, so alongside the roof and well-fitting windows, gutters are a critical part of your home's protection.
When the system is in proper working form, it maintains the structural integrity of your home. The rain gutters collect the runoff water and channels it safely and efficiently to the downspouts and out and away from your home.
The problem arises when the system isn't properly maintained. If you have regular, open gutters, you can expect them to collect twigs, leaves, and other debris, which can lead to:
Rot developing around your soffit, fascia, and eaves.
Leaks appearing around doors and windows.
Water constantly seeping into the ground near your foundation, which will lead to basement flooding and cracks.
Insects, critters, pests, and mold finding the perfect habitat to thrive.
Dangerous conditions that you'll face by climbing a ladder several times a year to keep them clean.
All of these issues can be avoided by installing the appropriate gutters, like the K-Guard Gutter System.
What are the benefits of installing gutter guards?
When you choose to install a gutter guard system like the K-Guard Gutter System you are adding an extra layer of protection to your home. They are designed to make sure that debris and litter don't get into your gutters to start with.
Gutter guard systems also eliminate the need to conduct routine maintenance on your gutters. Not only does this save you time, but it helps to keep you safe. Think about it – gone is the need to climb a ladder perched precariously on your roof a couple of times a year just to keep your gutters clean!
With the right system, you'll realize significant savings not only in the time you'll save, but also by reducing your maintenance and repair costs. While the initial investment may be more than with a regular gutter system, the long term benefits are substantially more valuable.
Not to mention that gutter guards will protect your home from many dangers, including rust and corrosion, fire, insect infestation, and pests. The reduction in standing water takes away the prime ingredient for inviting insects and pests, and the lack of soggy and wet leaves lingering in your gutters will prevent rust and damage to your gutters and prevent rot on your roof.
Another significant benefit is that gutter guards help protect against the dangers of freezing water and ice dams. By making sure that water continues to flow freely without obstruction, you mitigate the damage that could be caused during freezing weather.
How do I know what kind of gutters will work best on my home?
The best thing you can do when it comes to knowing what kinds of gutters will work best on your home is to seek the advice of a pro. The expert technicians that provide K-Guard Gutter Systems will come out to you, conduct an evaluation of your home's needs, and provide you with a free estimate on what it would take to install a worry-free gutter system.
The trick to navigating all of the many different gutter systems that are out there in the market is understanding that the personal touch and guarantee of a system like K-Guard will permanently remove thinking about your gutters from your list of home maintenance chores.
We continue to stand behind our products with a 100% guarantee, which is what makes us a market leader. We are so confident in our products that we'll come out and repair them free of charge if you ever encounter a problem.
By installing the right gutter system on your home, you can take away one source of potential damage and danger, while freeing up the time you would normally have to spend maintaining them.
Give us a call today and learn more about how the K-Guard Gutter System can protect your home.